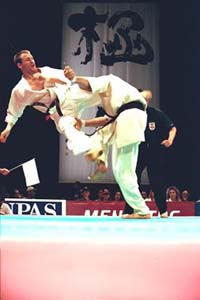 It has been confirmed that Sensei Garry O'Neill will be fighting in a One Match challenge at the 2012 New Zealand IKO National tournament August 11th this year. It will be an exhibition match.
He will be fighting against Sempai Goro Honda from Japan who is a Top 8 All Japan Weight fighter.
Sensei Garry placed 4th in the World in the 1995 open weight world tournament and then placed second in the All Japan open weight tournament in 1996 and 1997. These were extraordinary feats considering that he was only a middleweight at the time at around 75kg, fighting in open weight tournaments where he was giving up 20kgs in some fights. He was able to use his technical skill and the "Garry Step" to defeat his opponents.
Sensei Garry now operates his own dojo in Brisbane, Australia – http://www.oneillkyokushin.com
This will be the first time Sensei Garry has fought in Kyokushin since 2003 and a great opportunity to see him in action and learn from a great Kyokushin technician.
The event will be held at the Westpac Stadium, Wellington, New Zealand on 11th of August. Doors open at 8:30am and the One Match should be on around 2:30pm.