Men's Division
Congratulations to Shimamoto Yuuji, this years winner of the Shinkyokushin 44th All Japan!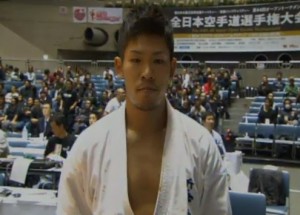 Yuuji beat out Shimamoto Hazufumi in the final with a jab to the chest which resulted in an ippon victory. It was all silent in the crowd as it seemed they couldn't quite work out what had happened. The replays confirmed it though and the crowd responded when Yuuji indicated his plan to take out the World cup next year. Again, well done Shimamoto Yuuji on your victory!
Shimamoto Yuuji's victory capped off a great day for Shinkyokushin fans who were treated to a spectacular demonstration from World Champion Norichika Tsukamoto who performed Seinchin kata followed by baseball bat breaks of his favourite techniques including his famed roll kick.
Results
1st – Shimamoto Yuuji (島本雄二)
2nd – Shimamoto Hazufumi (島本一二三)
3rd – Katou Daiki (加藤大喜)
4th – Mori Kenta (森健太)
5th – Maeda Shouda (前田勝汰)
6th – Suzuki Kunihiro (鈴木国博)
7th – Shoudachi Yuuta (将口祐太)
8th – Iriki Kenbu (入来建武)
Tameshiwari – Shimamoto Yuuji – 19 boards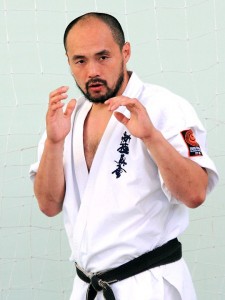 Also worth mentioning in the Men's division was Norichika Tsukamoto great opponent from the 1996 6th World Tournament, Suzuki Kunihiro, who make it through to the top 8 and placed 6th. A massive effort at the age of 42. Receiving his 6th place certificate he was all smiles – more so than Shimamoto Yuuji as champion! Will he ever stop fighting??
As for the oldest competitor in the men's tournament that was taken out by Yoshioka Satoshi at 52!
Female Division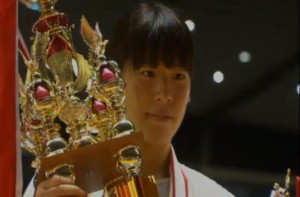 The winner of the Open weight female tournament was Shouguchi Eri. Congratulations!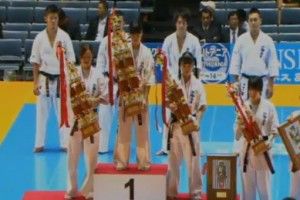 27 females came out today and took place in what was a great female open weight division. Open weight women's is a super tough event with the lightest fighter being 48kg and the heaviest at 75kg so the wearing of shin pads in addition to chest protectors was required at this event.
Well done to all participants!
Results
First place – Shouguchi Eri (将口恵美)
Second place – Yokoyama Noriko (横山紀子)
Third place – Mizuno Nene (水野寧々)
Fourth Place – Tanioka Nahoko (谷岡菜穂子)