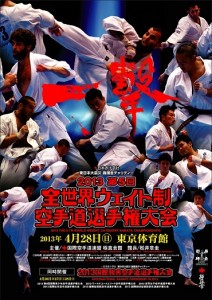 The draw is out for the 2013 Kyokushin World Weight Category tournament and the South Pacific team has a tough road ahead of them.
Here are the Australian and New Zealand Kyokushin fighters first round draws for the April tournament and quick review of their opponent.
Lightweight
6. Alex Molev vs 5. Naoya Kimura (Japan) – 21 years, 1st Dan
Naoya Kumura is an up and coming Japanese fighter who will prove very tought to beat. He placed 2nd in the 29th All Japan Weight category last year.
10. Robert Struthers vs 9. Eldar Ismailov (Ukraine) – 18 years, 1st Dan
Very young but full of potential. Eldar Ismailov came 2nd in the Open Weight Ukrain Championships last year. He then went on in December to win the European Junior championships.
Middleweight
19. Thelvin Cabezas vs 20. Lucian Gogonel (France) – 41 years, 3rd Dan
Although Lucian Gogonel is aging this will still be a very tough fight for Thelvin being that Lucian Gogonel was the 2005 3rd World Weight Category Lightweight champion. From there he went on to place 1st in Heavyweight division of European Championships in 2006 and 2007, not to mention 2nd places in the Open Weight European tournament in 2007 and 2008.
26. Jesse Connolly vs 25. Igor Titkov (Russia) – 30 years, 3 Dan
Igor Titkov is the 2012, 2010, 2009 Russian Middleweight champion, in addition to finishing in top 8 of All Japan Open weight championship before.
Heavyweight
34. Reece Henderson vs 33. Darmen Sadvokasov (Russia) – 30 years, 3rd Dan
Darmen Sadvokasav from Russia finished 4th in the 9th World Tournament (2007) and 4th in last year's 44th All Japan Kyokushin tournament. A very tough fight for Reece indeed.
43. Anthony Tockar vs 44. Daiki Kobayashi (Japan) – 21 years, 2nd Dan
Daiki Kobayashi has been having strong performances with top 8 finishes in the All Japan Open tournaments and America's cup. Not to mention his first place in last year's 29th All Japan Weight Category tournament.
Super Heavyweight
58. Carlos Castro vs 52. Nicolai Davidov (Russia) – 26 years, 2nd Dan
Nikolai Davydov finished 6th at the 2011 10th World Open Tournament. An extremely tough fight for Carlos Castro in the first round.
56. Steven Cujic vs 59. Mark Berg (Canada) – 25 years, 2nd Kyu
Mark Berg has been a strong competitor in North American tournaments with several 2nd place finishes in the Super Heavyweight Division.
Provided below are the full draws of the tournament!
5th World Weight Category 2013 – Light Weight Draw
5th World Weight Category 2013 – Middleweight Draw
5th World Weight Category 2013 – Heavyweight Draw