Congratulations to all the fighers who took place in the 4th World Weight Category Championships in Japan.
Read on for information and pictures!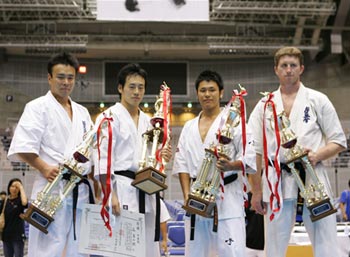 Winners
Lightweight – Yuzo Suzuki (Japan)
Middleweight – Mori Zenjyuro (Japan)
Heavyweight – Kentaro Tanaka (Japan)
Super Heavyweight – Mikhail Kozlov (Russia)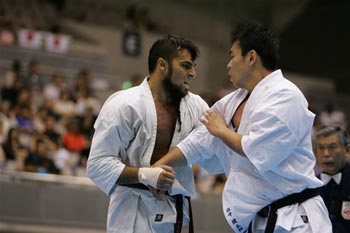 The finals of each weight division were outstanding with certainly one of the best matches of all time in the heavyweight. Alejandro Navarro against Kentaro Tanaka. The fight went to 2 extensions and was eventually decided by the amount of boards broken with Tanaka breaking 2 more boards that Navarro he was given the win.
Those of you who were interested in how the Australian fighter, Simon Kennedy, went…. unfortunatly he lost out in the first round with the Japanese fight just being too strong. Could of also been the fact that Simon had to drop down to the middleweight division so he could have still be suffering the effects of cutting weight.