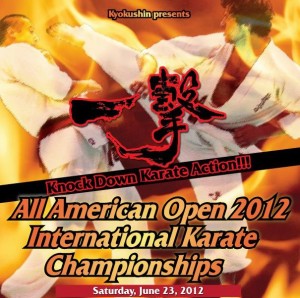 This weekend will be the 2012 All American Open International Karate Championships. Top fighters from around the world have converged on New York for this now famous mid year event! Some of the fighters taking part are:
Zahari Damyanov – Defending All American Champion
Goderzi Kapanadze – 3rd, World Tournament 2011, 2nd, 2011 All American
Alejandro Navarro — 1st, 11th European Openweight Championships
Nicolae Stoian – 1st, 10th European Openweight Championships
Elena Vorobyeva – 1st, 2012 Women's World Lightweight Champion
The Japanese have sent a strong team who only just completed 2 weeks ago in the All Japan Weight. They are fresh and ready to go!
Takaichi Onuma – 2012 All Japan Weight Lightweight 1st
Zenjuro Mori – 2012 All Japan Weight Middleweight 1st
Shouhei Kamada – 2012 All Japan Weight Heavyweight 2nd
The great news for Kyokushin fans from down under is that this event will be streamed live on the Kyokushin UStream channel! Fans
The event is scheduled for 23rd of June. Expecting to start around 10am New York Time. For Australia, this will be 1am on Sunday 24th.
Fans should be able to tune in around 11pm on Saturday night (Australian time) to the stream at http://www.ustream.tv/ichigeki and see all the action of the event!
We wish all the fighters the best and we are sure it will be a successful tournament for 2012!