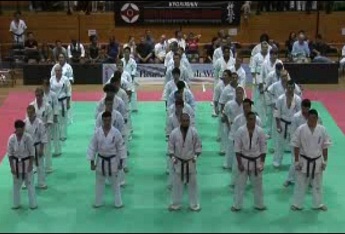 Congratulations to the winner of the 2011 All American Kyokushin Karate Tournament, Zahari Damyanov from Bulgaria!!
This year's tournament was of a very high level with many top fighters participating as they prepare themselves for the 10th World Tournament later in the year. Fighters such as Eduardo Tanaka, Navarro, Murata were expected to get through to the top 8 but were shutout!
The upset of the tournament was Shouki Arata defeating Ewerton Teixeira in the quarter finals. Taking him to 3/2/2 and then getting the decision. Although it left Arata extremely damaged which lead to him being beaten by Damyanov in the semis and then by Kurbanov in the 3/4th place match. That was Teixeira's first Kyokushin Tournament since the world tournament so now gives him something to think about leading up to the defence of his world tournament title in November.
Lechi Kurbanov was the strongest in the tameshiwari with a total break of 25 boards, although the heavyweight females were not that far behind!
With 3 Australian's fighting in this year's tournament it was our strongest appearence for some years with all fighters putting in a great effort.
Both Sempai Carlos and Shaune's first round apponents made it through the final, highlighting the level of competition they faced in the first round!! Well done guys!
Sempai Steven Cujic from Sydney dojo made it through to the 3rd round but lost out to Shouki Arata and just missed his place in the top 8. And also not to mention Shihan Cujic who was in action at the tournament, judging the mens open.
Mens Open Results
1st. Zahari Damyanov (Bulgaria)
2nd. Goderzi Kapanadze (Russia)
3rd. Lechi Kurbanov (Russia)
4th. Shouki Arata (Japan)
5-8. Alexander Mikhaylov (Russia)
5-8. Mirel Jacob (Romania)
5-8. Daiki Kobayashi (Japan)
5-8. Ewerton Teixeira (Brazil)
Womens Results
Lightweight Winner – Elena Vorbieva (Russia)
Middleweight winner – Julie Lamarre (Cananda)
Heavyweight winner – Anna Kaczynska (Poland)
Yokuzuna – Elena Vorbieva (Russia)