"I can be the champion this year" – Teixeira speaks about 2008 K1 Grand Prix Final chances…
Ewerton Teixeira became an instant sensation in Japan when he beat veteran fighter Musashi. The Kyokushin World Champion will face Errol Zimmerman at FieLDS K-1 World GP 2008 Final, and predicts he will become the champion this year.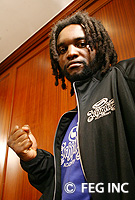 I was off my guard against Musashi
– You beat Musashi at WGP Final 16.
Teixeira : Yes, I think it was a great fight, but…
– Can you reflect on the fight?
Teixeira : My guard was lower than it was supposed to be during the third round. That's something I need to work on.
– It looked like your momentum slowed in the middle of the fight.
Teixeira : It's true, I lost my stamina a little bit in the middle of the fight.
– Were you tired?
Teixeira : I didn't have any major damage nor problems. As the fight went on, I realized that I was leading, and got carried away. Such carelessness could be one of the reasons why I ran out of stamina.
– Before fighting Musashi, you promised to win by KO, but it turned out to be by decision. Do you think it was because of your carelessness?
Teixeira : I don't think so. Of course, the KO is an ideal victory for any fighter. However, I was confident that I could defeat Musashi even by decision. I believe winning by decision is by no means bad or wrong. I rather think that it explains my ability to predict or read how my match develops.
I am in a similar situation as Errol Zimmerman
– You chose Errol Zimmerman at the drawing.
Teixeira : If I had chosen an empty spot, I could have faced Peter Aerts or Badr Hari. They are very experienced fighters.
– Did you want to avoid fighting against them?
Teixeira : I thought they would be too tough for me at this point.
– What made you choose Zimmerman in particular?
Teixeira : He does not have much experience fighting in the K-1 ring. His circumstances are similar to mine.
– You believe you have a better chance of winning if your opponent has similar experience to you?
Teixeira : Yes, I see the chance to win against Zimmerman. Please don't think I underestimate him. There's no doubt he is a dangerous fighter, but in comparison to the others, I see a higher chance to move into to the second round by fighting Zimmerman.
– If you were in a situation to be able to choose any of the seven fighters, whom do you think you would have chosen.
Teixeira : I am ready to fight any time with anybody. Yet, there was no special person I wanted to choose this time.
I believe in myself, I believe I can become champion
– Now that all the matchups have been confirmed can you tell us how confident you are about winning the championship?
Teixeira : The only thing I should do is train hard to improve my ability to fight well with the other best-eight fighters.
– So one step at a time then.
Teixeira : Yes (laughs) but I believe in myself, already at this point I believe I can become the champion
– You are cocky, though cautious. If you do not KO your opponent, it will be tough on you physically at the Final. Finishing with decisions in a tournament format demands great stamina.
Teixeira : Don't worry about that. I've already experienced both one match and tournament styles in K-1.
– So you see no problem with fighting in the tournament format?
Teixeira : No, I have no problem with that. I won the Japan GP, I know how to prepare for the Final tournament.
– Surely you see a difference in the competitive level between the Japan and World GP?
Teixeira : Sure, they must be very different. Yet, I think a fighter should believe in their own victory, and not lose their self confidence at any time.
– You believe that you can win if you have enough confidence?
Teixeira : I don't want to lose to anybody! My training environment is great. I believe in my victory, and, I trust myself at the same time. I will do my best to be a champion at the Final by keeping my confidence high!
Taken from K-1 Official Web Site